The "Wipfelwanderweg" Rachau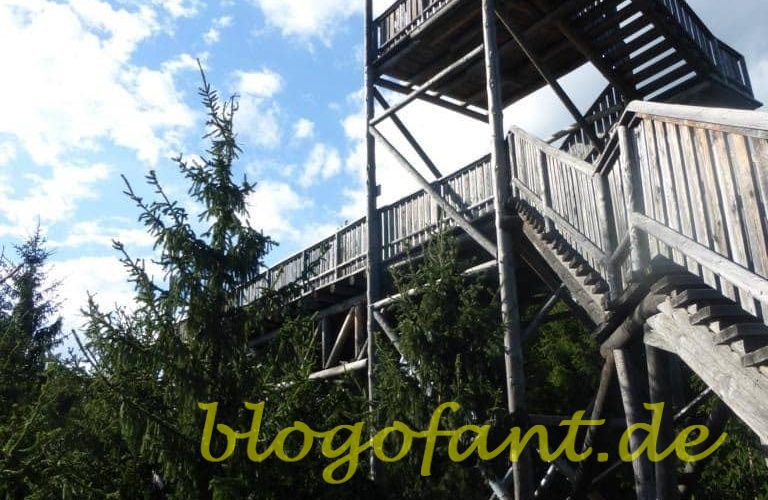 Standing high above and overlook the mountains and pastures of the Mur Valley. No, it is not a new observation tower but you are standing in the woods. With the treetops at your fingertips and this spectacular panoramic trumps the Wipfelwanderweg Rachau.
The access
Starting point is the cards building with a souvenir shop and restaurant. Parking is available inadequate number of parking lots.
The access consists of a flat landscaped gravel along the forest on the right and fields on the left side. On the forest side, there are some playthings for adults and children – for example, a slackline course, bowling throwing, or barefoot trail.
Finally, it goes over the sky staircase with 148 steps up to the level of the hill. After that is done, a short forest path (about 500 meters) to the start of the trail follows. Again, there are some certain entertainment points devised such as a chime.
High above the ground in the treetops
When you enter the trail there is the last chance for a toilet stop. Additional there are some goats (but not a petting zoo). The Wipfelwanderweg has a total of 1300 stages and 3 Towers (Nos. 19, 27 and 28) for an optimal panoramic view. Following the first ascent, it is still mostly uphill. Again there are some attractions, such as a quiz or a stereo system. Highlight is the 4 meter long viewing platform at the end of the trail – about 25 meters above the abyss with breathtaking views of the Murtal. The exit is either with 30 meter slide, (unfortunately relatively slow), or alternatively a normal staircase. Furthermore, there is a children's playground at the end of the trail.
The way back
You return via a forest path, which is designed with bird sculptures (bird trail) back to the entry. After the walk through the woods on ridge, the stairway to heaven follows and via farm track to the entrance / parking building.
The total walking time is about 2 hours. But with breaks for photos & Co it will take at least 3 hours.
More information & activities
One relaxation track with meditative exercises can be tried.
For lovers the "Tower of the Heart" can be rented and locked. It is ideal for an undisturbed picnic in togetherness.
The tour contains many steps which should not be underestimated. People with problems climbing stairs or weak condition is discouraged by this trip.
There are emergency exits on the way, which can also be used for emergency personnel.
Approach
Getting to Wipfelwanderweg is done either on the S35 (leaving Knittelfeld Ost) or B77 to Weisskirchen. Then follow the road to Knittelfeld and St. Margarethen bei Knittelfeld. From there, follow the signs of treetop trail.
The Murtal for Insider
Tip #1: Use the Package deal "Hiking & Wellness". It includes admission to the Wipfelwanderweg Rachau and a 4-hour stay in the Aqualux Spa Fohnsdorf near Judenburg.
More information, prices, opening times & Co can be found on the official homepage.
http://www.wipfelwanderweg.at/
The SteiermarkCard includes includes a one-time entry into the Wipfelwanderweg Rachau (Updated 2014/15/16) For more information visit the website: http://www.steiermark-card.net/