6 ways to wish Koreans a happy birthday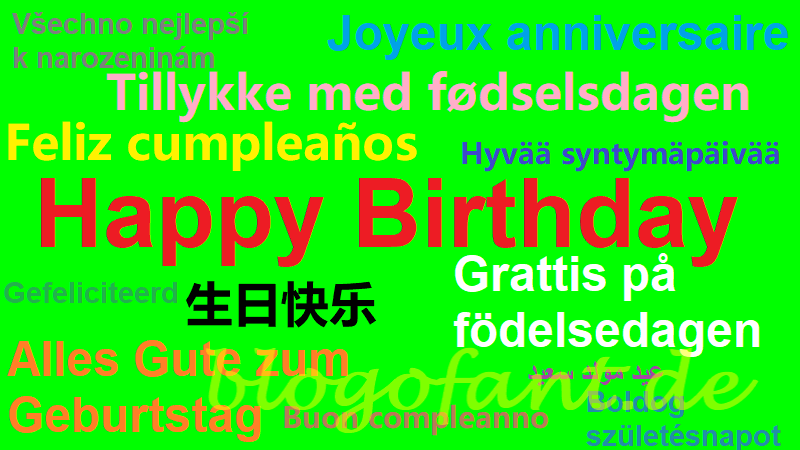 Happy birthday in Korean
Happy birthday in Korean is: 생일 축하해! (saeng-il chughahae) This term is used the most because it is the standard phrase and is always used can. In social networks, but also in personal conversations, you will find other expressions much more frequently. These are shorter and more concise.
6 Ways to Wish Koreans "Happy Birthday"
In the list below you will find different ways to congratulate a Korean. Some of these are short forms specifically for social media or informal conversations. Others, on the other hand, have a more general meaning and can of course be used in many different ways.
생일 축하해! (saeng-il chughahae) – Happy Birthday / Happy Birthday
생일 축하하고 모든 일에 최선을 다하십시오! (saeng-il chughahago modeun il-e choeseon-eul dahasibsio ) – Happy Birthday and Happy Birthday
축하합니다! (chughahabnida) – Congratulations / My congratulations
모두 제일 좋다! (modu jeil johda) – All the best
생일 축하해요! (saeng-il chughahaeyo!) – Happy Birthday to you
많은 행운! (manh-eun haeng-un) – Good luck
It's best if you apply your knowledge right away and surprise a Korean friend, acquaintance or relative with a "Happy Birthday" in Korean. Koreans are extremely proud of their language and appreciate birthday wishes in their native language. But don't be surprised if a "감사 해요! (gamsa haeyo)" or "매우 감사합니다! (maeu gamsahabnida)" comes back – this means something like "(Many) thanks". And don't forget: Variety makes life nicer – so you have several ways to congratulate a Korean.
Birthday gifts for Koreans
It is often very difficult to choose the right gift – even more so if you are of a different nationality. Of course you can't go wrong with vouchers, gifts of money, fragrances, technology and games – but these are just standard gifts. However, Koreans are also happy about local and regional products from their country as well as technical articles and gadgets – of course from Korea and not from Japan. Of course you can mix Korean products with your own local products for a perfect and delicious or technical gift. Note that not all goods may be imported or exported.
More resources in Korean
Are you looking for more phrases and lessons in Korean? Then you will find many more topics and other languages ​​on the overview page.
Happy birthday in other languages
Here you will find a post list about Birthday wishes in many other languages. In addition to birthday wishes, there are also wishes for a name day, Happy Easter, Happy New Year and Merry Christmas.