Rhodes Beaches and Rhodes Snorkeling

Rhodes, the largest of the Dodecanese islands in Greece's Aegean Sea, is famous for its rich history, archaeological sites and, of course, stunning beaches. The island is also a paradise for snorkelers who want to explore the crystal clear waters and diverse marine life. Below we take a closer look at the beaches of Rhodes and the snorkeling opportunities on the island.
Rhodes Beaches
Rhodes has a variety of beaches that vary greatly in texture and atmosphere.
Elli Beach: Elli Beach is located in the northern part of Rhodes Town, within walking distance from the city center, which makes it easily accessible. There are regular bus services to and from other parts of the island, making it an easy day trip. This beach is known for its well-developed infrastructure – it has numerous sun loungers and umbrellas, showers and changing rooms. In the vicinity you will find a variety of restaurants, cafes and bars, as well as a range of shops and boutiques.
Faliraki Beach: Faliraki is about 14 kilometers south of Rhodes Town and is easily accessible by car or bus. This long sandy beach is very well organized and offers all amenities including sun beds, umbrellas, water sports centers and even a water park nearby. Faliraki is also known for its lively nightlife, with numerous bars and clubs lining the beach.
Anthony Quinn Bay: This bay is located about 15 kilometers south of Rhodes Town and is best reached by car. Parking facilities are available and there are also a number of tavernas nearby for drinks and meals. The bay is less organized than other beaches and has less infrastructure, but that adds to its natural charm. Here you will mainly find pebbles and clear, turquoise waters – ideal for snorkeling.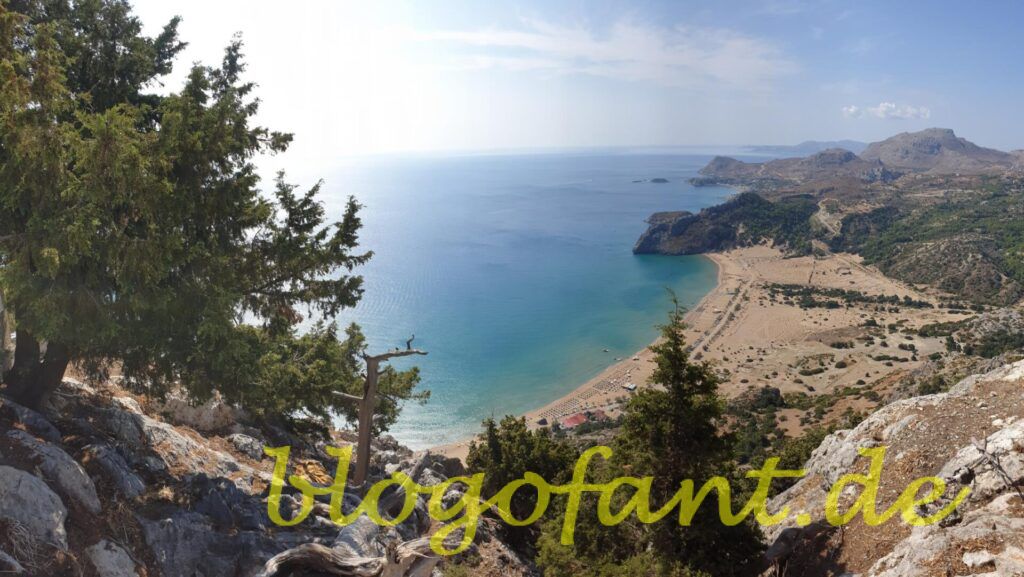 Tsambika Beach: Tsambika is located about 25 kilometers south of Rhodes Town. It can be reached by bus or car, with parking available nearby. This wide, golden sandy beach is well organized with sun loungers and parasols and there is a selection of tavernas and cafes nearby. Tsambika is also known for the Monastery of Panagia Tsambika, which is located on a nearby hill and offers impressive views of the area.
Prasonisi: Prasonisi is located at the southernmost point of the island, about 92 kilometers from Rhodes Town. Access is best by car or motorbike. Infrastructure is minimal here as it is a nature reserve. However, there are a few tavernas and a windsurfing and kitesurfing station. The beach is known for its particular geography – depending on the season, Prasonisi is either a peninsula or an island separated by a shallow sandbar.
Snorkeling in Rhodes
Rhodes is also an excellent place for snorkeling. The clear, warm waters surrounding the island are home to a variety of marine life that attract snorkelers from around the world.
Anthony Quinn Bay: This small bay, located about 15 kilometers south of Rhodes Town, is a paradise for snorkelers with its clear, turquoise water and rocky underwater landscape. The bay is accessible by car and there are parking facilities nearby. There is no direct bus service, so a rental car or taxi is the best option. The calm waters are teeming with marine life and offer a wonderful opportunity to discover the underwater world of the Mediterranean.
St. Paul's Bay: St. Paul's Bay is located right next to the ancient city of Lindos, about 50 kilometers south of Rhodes Town. It can be reached both by car and by bus. The bay is known for its sheltered location and crystal clear waters, making it ideal for snorkeling activities. There are also numerous fish in the bay, which makes it an interesting place for underwater observation.
Traganou Beach: Traganou is located about 15 kilometers southeast of Rhodes Town and is easily accessible by car or bus. The beach is known for its rocky landscape with numerous caves perfect for snorkeling. The underwater world here is rich with different species of fish and other sea creatures that can be observed.
If you are planning to go snorkeling in Rhodes you should always make sure you are aware of local weather conditions and safety guidelines. It is also important to respect the marine environment and cause as little disruption as possible. Wear eco-friendly sunscreen, don't touch animals or plants, and don't take rubbish into the sea.
There are numerous diving schools and equipment rentals on Rhodes for both experienced snorkelers and beginners. Some even offer guided tours that will take you to the best snorkeling spots and often include a brief introduction or refresher on snorkeling basics.
Summary Rhodes beaches and snorkeling in Rhodes
In conclusion, Rhodes is an excellent destination for both its beaches and snorkeling. With its many beaches ranging from busy sandy beaches to quiet, secluded coves, Rhodes offers something for everyone. And the island's clear, warm waters are the perfect place to explore the colorful and diverse marine life of the Mediterranean Sea. It's no wonder so many people return to this beautiful Greek island year after year.
More Greek posts
In this section you will find more posts about Greece.